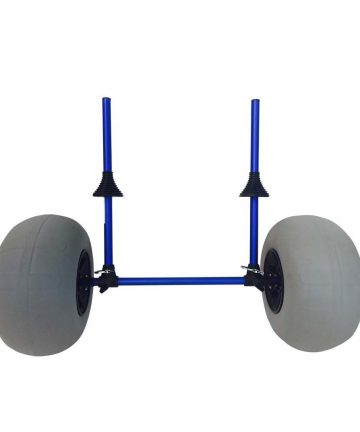 The Lazy H Kayak Cart is the new kayak trolley from Lazy-Boys. This trolley is designed for inserting into the scupper plugs of your sit on top kayak. The Lazy H uses inflatable all terrain wheels which do not sink when transporting your heavy kayak on the beach.
The Lazy H trolley is made up of three detachable ionised metallic blue aluminium pieces which connect to form the H trolley. Being detachable means the trolley can be easily stored and fits perfectly inside the hull of your kayak.
The Lazy H trolley uses an adjustable system in order to fit most sit on top kayaks. The system can be increased or decreased to fit the distance between each scupper plug. The insertion points have rubber scaled protection added to it which protects the scupper plugs from potential damage and helps secure a better fit which improves the support of your trolley.
This cart can handle all types of surfaces including: pavements, beaches, pebble coves and rocky terrains. The inflatable wheels are made from durable rubber that can cope with weights of up to 55kg on each wheel. The wheels are designed to be inflated at 2-4 PSI for maximum endurance.  The Lazy H Kayak Cart can be used with a variety of sit on top watercraft including: fishing kayaks and leisure kayaks.
Its sturdy design can handle heavy loads of up to 90kg and its unique metallic blue finish makes it stand out from the crowd.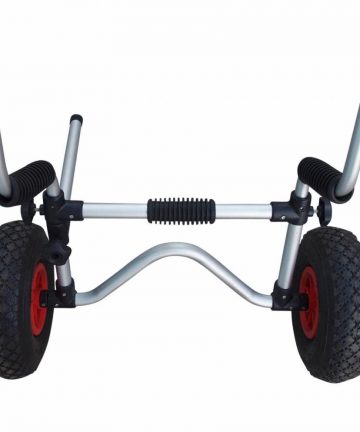 This kayak trolley makes your journey from your car to the waters edge a breeze! This trolley's detachable 26cm pneumatic wheels use Tuff-Tire technology that means they are designed to never go flat.
This trolley's frame is made from heavy duty, collapsible aluminum that is marine grade anodized and capable of holding a capacity of 75kg. It also comes with a kickstand for easy kayak loading.
Featuring four foam protection pads that carefully cradle your kayak's hull. Unlike the kayak trolley with straps, this trolley comes with a scupper plug support system. It has two adjustable aluminum bars with rubber coatings that fit into the drainage holes of all sit-on-top kayaks. There is no need for straps to further hold your kayak in place.
This trolley is lightweight and capable of tackling the toughest terrains, from rocks to steps to the beach!
Specifications:
Material: Marine grade anodized aluminum
Measurement: tube diameter is 22.2×1.5mm