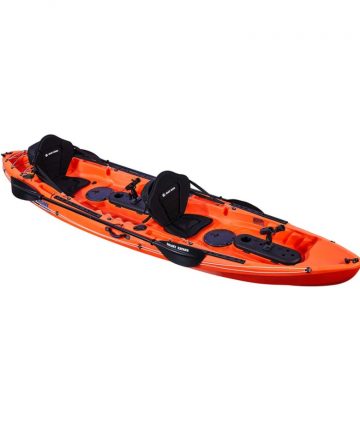 Do you have someone you like fishing with or a family member who'd enjoy kayaking on the weekends? Sometimes spending hours sitting on the beach or a riverbed is just not an exciting
prospect to people who aren't passionate about this sport. That's where kayak fishing on a tandem kayak really shines. It's a fantastic way to spend time fishing with friends and family and for all to enjoy the adventure on the water.
Tandem Vista HV kayak is the new two person fishing kayak from Galaxy Kayaks. This fishing kayak is designed for the ultimate tandem fishing experience thanks to a whole set of new features.
The Tandem Vista Fisher kayak is the first in its category that allows both high seat and low seat options and these interchangeable seats offer unique possibilities for the serious fisherman amongst us. You can now adapt your kayak completely to suit each day of fishing, no matter what the weather or fishing technique you are planning; use two Vista high seats that fit perfectly within the mould of this kayak for added visibility or use the traditional low seats for those who prefer stability over comfort.
The Tandem Vista HV kayak comes fully equipped for a long day fishing with four rail mounts and four large flush mount rod holders that come as standard. Each rail mount can easily fit up to four Railblaza Starports with plenty of room to play. This means you can customise your kayak to near endless possibilities with the wide range of accessories. This kayak comes as standard with two Railblaza R rod holders and four Starports just to get you started.
For those of you who like to go out fishing with a fish finder you'll be glad to know that we've made your life easier by adding a transducer mount on the bottom of the kayak. This makes the installation of a fish finder much easier and saves you having to tinker with the hull of your kayak.
At Galaxy Kayaks, we know that onboard space and storage is precious, which is why we've included two round 8″ central storage hatches and two rectangular central storage hatches on our new Tandem Vista HV kayak. The rectangular hatches include our multi fixture lids that allow you to attach a variety of rod holders, fish finders or any combination of gadgets that you may prefer to have centrally located rather than on your new rail mounts.
Of course, the lid also includes our standard cup holder to keep those refreshing drinks close at hand. Both hatches can be used for an abundance of things such as food, drinks, valuables, storing lures, fishing line, spare reels, hooks, weights and other fishing materials.
Within the central storage hatch you'll find a tackle box to keep your tackle organised. Be sure to invest in a waterproof bag for the more delicate electronics that you don't want to get damp.
Even better, the new Tandem Vista HV comes with moulded platforms to the side of your seat for quick storage of material, always useful when handling fish or tying lures.
To ensure this kayak doesn't experience water seepage (which is known to occur on flush mounted hatches), the new Tandem Vista HV kayak comes with raised hatches for rapid drainage of water. This is an important factor when you compare our kayak to others available on the market.
Like all Galaxy Kayaks, the Tandem Vista HV comes with our three year guarantee.
The kayak also comes with 2 paddles as standard so all you need are lifejackets, and you are ready for your next adventure!
The all new Galaxy HV (High Visibility) Series™ comes with three lifelines and three Bungee cords
in various colours. These are intended to make your kayak more visible for added safety on the water. These are included as standard in all kayaks from our new Galaxy HV Series™. They come in Orange, White and Black. This selection allows you to chose the final look you give your kayak; bright colours gain more visibility on the open water or dark ones camouflage with the shore line of a river – the choice is yours.
Ensure the added safety of your equipment against all conditions with an optional combination of two or three bungee cords available for the rear storage boot to tie and secure your gear.
Whether you are looking for added safety or simply like to have fun on the water chose a truly unique look with the Galaxy HV Series™.
Available colors Orange and Paradise Blue